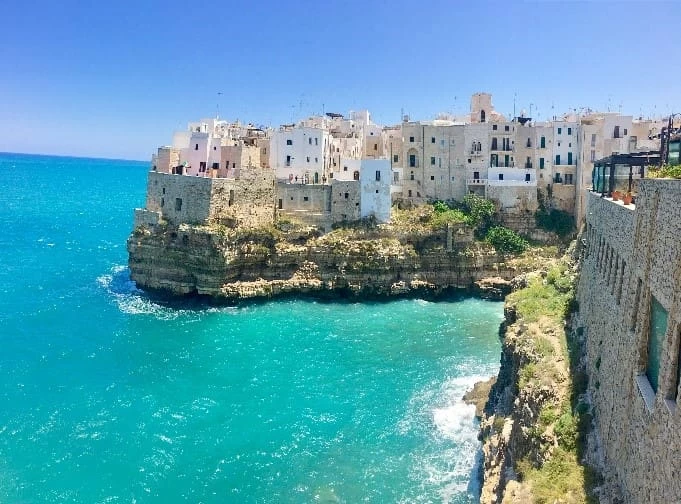 Last June I spent three wonderful weeks exploring the region of Puglia in Southeast Italy. When you look at a map of Italy, Puglia is the heel of "the boot".
The best time to visit is May through June or September through October. During these months you will enjoy lovely sunny days, fewer crowds, and reasonable accommodation prices.
I know that sounds enticing – but I hope to fully convince you to visit Puglia with these 5 reasons:

PUGLIA IN ITALY: UNEXPECTED BEAUTY AND CHARM
You will be enamored by the endless olive trees, hilltop towns, and spectacular beaches. Puglia is often overlooked by foreign tourists. During the warmer months, and in general, most stick to hotspots such as Venice, Florence, Rome, Sicily, and the Amalfi Coast. I am even guilty of this. I have visited Italy 20 times in the past decade but only stepped foot in Puglia once. It's too bad I didn't know about it sooner because this region is very affordable and full of amazing places. I traveled around Puglia with a rental car, which I highly recommend doing. This is the best way to discover the most.

BEST BEACHES IN MAINLAND ITALY
If you are a true beach lover like me, you will be happy as a clam in Puglia. Imagine white sand and crystal-clear, calm water. My favorite beaches in the region are on the west coast along route SP122 between Torreta Mare and Porto Cesareo. This 50 km stretch, or 31 miles, boasts some of the most beautiful beaches I've seen in mainland Italy, such as Punta Prosciutto. This beach lacks facilities so if you are looking for something nicer head to a lido (beach club) like Blu Sun Beach in Marina di Lizzano. It is very easy to navigate with a car and you can pull over and stop along the road wherever you like. I recommend going early in the morning to avoid potential parking issues, especially during weekends, as locals flock here.
On the east coast, you can't miss Torre Dell'Orso Beach and the nearby Grotta della Poesia, which is an incredible natural swimming pool that connects to the sea. Again, go early if you want to enjoy a super peaceful atmosphere and capture some major #FOMO Instagram pictures.
PUGLIA IN ITALY: DELICIOUS, INEXPENSIVE LOCAL CUISINE
I rarely eat sandwiches, especially while traveling, but I'm so glad I tried a "puccia". It's made of pizza dough and filled with vegetables, cheese, and/or meat. Don't be concerned about the calories – savor the moment! This perfect on-the-go snack is ideal after hours of basking in the sun and swimming in the sea.

To my fellow foodies, be prepared to feast on fresh shellfish and seafood. The sweet red shrimp from Gallipoli are excellent. I have many café/restaurant recommendations, such as Pescheria 2 Mari in the tiny harbor of Savelletri, so please feel free to ask me if interested.
PUGLIA IN ITALY: SOMETHING FOR EVERYONE
Puglia is a family friendly destination, but also great for couples, big groups of friends, etc. My favorite places in the region, from north to south, are Polignano a Mare, Monopoli, Alberobello, Ostuni, Lecce, Gallipoli, and the beaches that I previously mentioned. I also love the southern tip of Puglia, known as the Salento. I was awestruck by the Punta Ristola vista point in Leuca.
If you're looking for specific hotel recommendations
FAMILY TRIP
Hotel Belvedere in Torre dell'Orso is my top choice for a very affordable family friendly hotel. Stay in a deluxe room, which is basic, but the location is unrivaled. I went here with my fiancé and I kept saying how much I'd love to come back with my family, especially my two nephews. The beach is perfect for young children learning how to swim. Also, if you are an early bird, go to the rooftop terrace at dawn. The illusion of the sun rising from the sea is remarkable.
ROMANTIC GETAWAY
Choose to stay in a masseria (farmhouse or country estate). My favorite is Masseria Potenti in Manduria. In my mind, this is the definition of Puglia at its best.
OLDER COUPLES
Masserias aren't for everyone. Hotel Palazzo del Corso in Gallipoli is a clean and comfortable 5-star hotel without an expensive price tag. It has a beautiful rooftop to enjoy sunset cocktails.
DESIGN LOVERS
Masseria Moroseta in Ostuni is for you. It's funky yet very cool.

GUYS TRIP
Choose a bigger masseria, like Masseria Bagnara. Room rates can be high so research in advance to find a good deal.
GIRLS TRIP
Nina Trulli Resort just outside of Monopoli. If you bring mosquito repellent with you, you'll enjoy this dreamy trulli style boutique hotel to the max.
There are 5 UNESCO sites in Puglia. If you only choose to visit one, don't miss the trulli (prehistoric dry-stone huts with adorable conical roofs) of Alberobello. The architecture is so unique and well preserved. History buffs will also enjoy a visit to Lecce, an extravagant Baroque city, located 1 hour and 20 minutes south. If you're time is limited, stop in Ostuni, a white washed hilltop town to wander the alleyways and grab a bite for lunch. I found it too hot to enjoy city sightseeing in June so please prepare accordingly.
Alexandria D'Agostino